I arrived in Lisbon on a flight from Dublin. The airport is connected to the city via the underground. It was punctual, clean and efficient and my stop at Martim Moniz. Once I got out at street level, I saw the open expanse of Martim Moniz square, glistening with rain. Rain! Not exactly what I had imagined in Lisbon. The directions to my AirBnB were hard to follow so I just used google maps to navigate the narrow alleys to my accommodation. How did anyone navigate cities before Google maps? It's a traveller's best friend, especially during that first day when navigating your immediate surroundings.
Tip: Buy a transport card at any subway station, better at the airport, load money onto it, and use it to pay for trans, subway and buses. It's very cheap and I didn't spend ten Euros the whole time I was there.
Once I found the door of the apartment block, I opened it to a darkened hallway and nearly broke my neck stepping into it as the step was a good way off the ground. I found the nearby hall light switch and ascended to the third floor. There, Sofia welcomed me along with her cats, Yunan and Luna. Her flatmate Hugo also came out to say Hi. I brought them chocolates from Ireland which they liked a lot. Sofia showed me to my room and gave me the rundown of the facilities. There were amazing views from my small balcony, I could see the castle, Christ statue across the river and the bridge. The lights of the city battled to penetrate the grey rain clouds, making it seem as if the city was on fire. I checked my phone for messages and was not pleased to see reports of bright sunshine in Ireland. Ah well, the weather was bound to improve during the week I reasoned.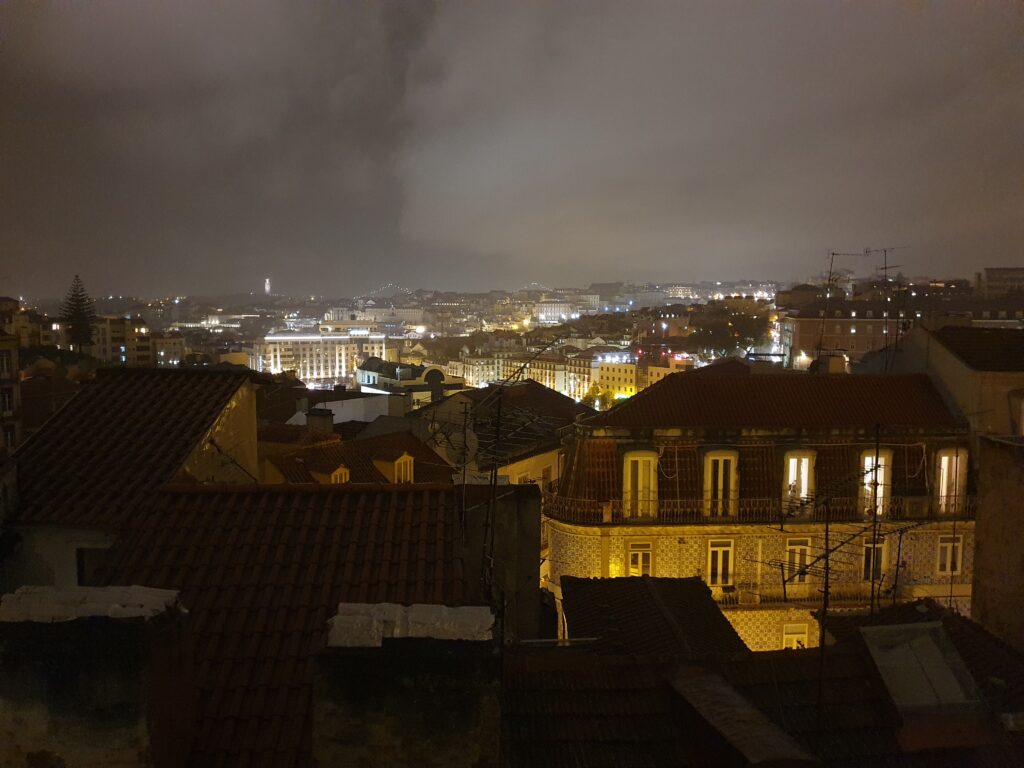 Aviz – My Kind of Restaurant in Lisbon
I asked Sofia for a recommendation for supper and she didn't hesitate to direct me to Aviz, a nearby eatery only a minute's walk from her flat. It's a very simple tavern with a restaurant in the back. I was shown to my table by the owner who had little English. He was a big man sporting a dirty apron and a gruff voice with a smile hidden behind his face covering. Nearby, a table of older men demolished a bottle of brandy. I overheard German and Italian so it was obviously popular with tourists. I had codfish and potatoes in a lot of garlic oil with two Super Bock beers for sixteen Euros. Sated and bloated with cod and beer, I ambled back to my bed in a happy mood.