After arriving in Lisbon, I was excited to see as much of this city as possible so I was up early the following morning to do some exploring. I left the apartment and ascended the steep hill towards Graça, an old Lisbon neighbourhood perched on a hill above the city. The narrow lanes are cobbled with rough stones and I dread to think of anyone in high-heels trying to climb them. Soon, lovely views of Lisbon come into focus with Castelo de Sao Jorge to my left, perched high on a commanding hill overlooking the city. I followed signs around an old church until I found a view of the city called Miradouro da Senhora do Monte. The otherwise impressive view was obstructed by a yellow crane. It looked like they were building another funicular to this point and works were in progress. Predominantly low-rise dwellings crushed up against each other and sprawled towards the River Tagus. Only a few high rise buildings could be seen in what I assumed was Lisbon's business district. I could see the Christ the King statue across the river with his arms outstretched just like the more famous statue in Rio de Janeiro. An impressive suspension bridge linked both sides. This is a popular viewpoint but I had the whole place to myself. In nearby in Graça centre, I found a very cheap breakfast at a chain called A Padaria Portuguesa. At 5.70 Euros for orange juice, coffee and a ham and cheese croissant, it was great value.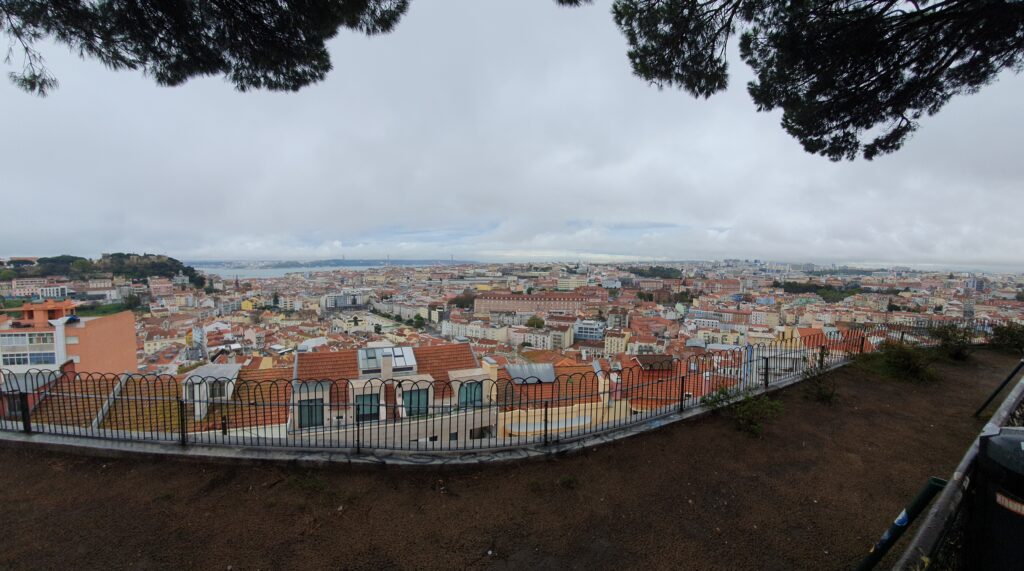 Blue Tiles of Graça
I retraced my steps to a building which I first thought was a church but later learned was the Convento da Graça. There was no entry fee and I had no idea what to expect inside. The convent looked in bad disrepair from the outside and inside was no better. Broken gutters allowed torrents of water to fall into the unkempt courtyard. It was actually interesting to see how the church was allowed to fall into disrepair. Most places, these buildings are fully restored and you have no idea what state they were in decades previously. This one was different. I assumed the real reason was lack of funding. There was a large hall attached to the convent and each wall was decorated by beautiful scenes created from Azulejo tiles, the distinctive blue tiles famous in Lisbon. Most scenes depicted Christian missionaries and saints being brutally killed by Arabs, like a form of old style propaganda. People crowded into the church, more to shelter from the heavy rain than to look at the tiles. I stared out at the downfall and signed heavily. Looked like my speedos would remain in my bag for today anyway.
The rain continued to pour as I hoped beyond hope it would lighten. Not only did it rain but it sheeted down. This is not how I imagined Lisbon. I had left my rain gear at home as I assumed I would not need them in such a sun-kissed city. And it was eighteen degrees at home in Ireland! Why do you mock me Lord?