My flight touched down in Split around nine in the evening. The bus shuttle from the airport to the main bus station in Split took thirty minutes and cost forty five Kuna, which was about six Euros. At the time of writing, a Euro was roughly seven Kuna. From there, I used Google maps to guide me along the lovely harbour walk known as the Riva to my AirBnB in the old neighbourhood of Varoš, about fifteen minutes away. People were in shorts and sunglasses, sitting on benches along the lovely promenade and enjoying the warm evening.
My host Angela greeted me warmly as I opened the unlocked door of her home. She showed me to my room and gave me a tour of all the facilities. My room was perfect, a nice bed with access to a shared shower across the hall. Angela seemed very friendly and chatty, a very nice person. She told me most restaurants would be shut at that late stage so I popped out to get a sandwich and water to take back to the room. I was tired but thrilled to be in a new country again with unknown adventures before me.
The Wonderful Riva – Split's Promenade
The following morning, I returned to the Riva to watch Split come to life. Already, people were going to work and school, tourists waited for ferries to take them to the outlying islands while others pulled suitcases across the glass-smooth footpath. Fancy restaurants lining the promenade readied themselves for another glorious day as tables were cleaned and signage erected. In most places I checked, breakfast was more expensive than at home in Ireland, which came as a bit of a shock. I had expected Split to be good value but this might not be found on the Riva. Eventually, I found a small restaurant at the end of the street offering a fruit juice and toasted ham and cheese sandwich for forty five Kuna.
After breakfast, I followed signs to a nearby Spar shop. I don't make a habit of seeking out Spars when I go abroad but this one was different. This one was located within the palace of the former Roman emperor Diocletian. I think this shop is now listed due to some legal error – a listed grocery store. I found it hard to believe they allowed a shop to be opened inside an ancient Roman palace. As I discovered later, it is one of many shops and businesses that operate inside of the ancient Roman ruins.
For lunch, I had a fabulous fried octopus dish with mixed salad, washed down with a local beer. I loved the relaxed, easy feeling of the outside dining, watching people come and go. I could get used to this.
On the way back to my accommodation, I wandered around Veri Varoš, the old neighbourhood west of the old town. It really was a tangle of alleys and narrow paths, many of them leading to dead ends. I had no place in mind but allowed myself to wander aimlessly and admire the old stance homes and churches of the area.
I always enjoy making sense of my surroundings and getting my bearings in a new place. After ambling around the warren of alleys and streets of old Split for a while, I had a good sense of where I was. Come out of the apartment, down the glass-smooth stone steps, left past the antique bookshop, past fast food place selling overpriced burgers, through the arcade, right past the bottle shop and you're on the Riva. This was to be my path each morning.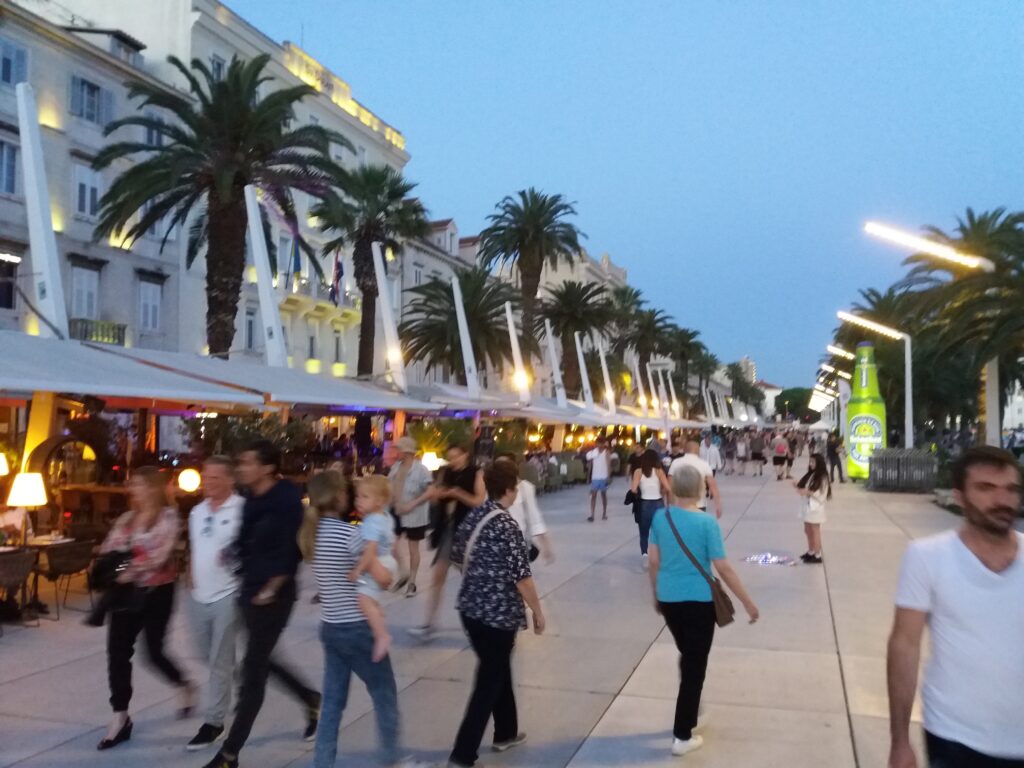 I had planned to go for a swim but it was too late for that. Instead, I grabbed a can of local beer and a chicken wrap and headed to the promenade. Nobody in the expensive restaurants behind me had a better seat! The Riva was alive with people having fun. Young kids played with each other, older people strolled by and arm-linked couples shared ice cream. Everyone was laughing, talking and enjoying being alive. After the past two years of COVID restrictions, it was so great to see this. Life has come back again. Travel, I missed you so much!