I met Awkrick at the salsa night out and he promised to take me on a walking tour of Lisbon, showing me the authentic parts of the city. Awkrick was from Belgium but had lived in Lisbon for over eight years and knew the city secrets. We met at the Praça Luís de Camões, a small plaza with a statue of Luis de Camoes, who was one of the greatest Portuguese poets. He is surrounded by eight smaller statues of leading figures of Portuguese culture and the Age of Discoveries.
Bairro Alto
We walked around Bairro Alto, another of Lisbon's historic neighbourhoods. Like Alfalfa, it mostly survived the devastating earthquake of 1755. It looked very similar to Graça and Alfama with its narrow alleys, festooned with drying clothes. Some buildings were in serious decay but still had the remains of beautiful blue tiles. Mostly though, they were disfigured with graffiti. This place comes alive at night with small bars appearing from every corner.
"Can you guess what influenced these tiles you see on many walls?" asked Awkrick, pointing to some blue tiles high on one of the walls.
I correctly guessed the Moorish influence and he nodded his head in appreciation.
"Some people have guessed they were from Chinese influence," he said, shaking his head sadly. "As you correctly guessed, the beautiful tiles are a reminder of the Moorish influence. Romans, Greeks, Carthagians occupied the city until it was captured by the Muslim Moors in 714 AD. From the 5th to the 12th century, the Ottoman empire controlled what is modern Portugal and influenced their culture, religion and architecture. When Portugal was founded as an official nation in the 12th century, the first king of Portugal, Afonso Henriques, a staunch Catholic, decided to destroy most of the mosques in the city and replace them with churches, chapels and cathedrals. However, they decided to keep the azulejos (tiles) on the facade of houses as they helped to keep the building cool during the hot summers."
The Carnation Revolution
We then stopped below a mural celebrating the revolution that overthrew the Salazar dictatorship in 1974. Antonio Salazar had been in power since 1930 and had died in 1970, his son replacing him as dictator. The Carnation revolution started, after a story about a woman putting a flower in the barrel of a gun. It overthrew the dictatorship and ushered in an era of democracy.
At Calçada of Gloria, we watched a funicular bringing tourists up and down a steep hill. It operated the same way as the trams in San Francisco, being pulled along by a cable under the tracks. In Portugal, they are called lifts.
We took a break at the Casa do Alentejo, a beautiful cultural and regional house of the Alentejo region of southern Portugal which still breathes the Moorish influence. After climbing the lovely staircase, we arrived into an open courtyard, heavily influenced by Moorish architecture. I almost expected Muslim men in women in robes to wander through. Over a few cold beers at the small restaurant, Awkrick explained that despite the efforts of successive Christian kings to rid Portugal of its Muslim heritage, Alentejo province still retains some of the old Moorish buildings and influence.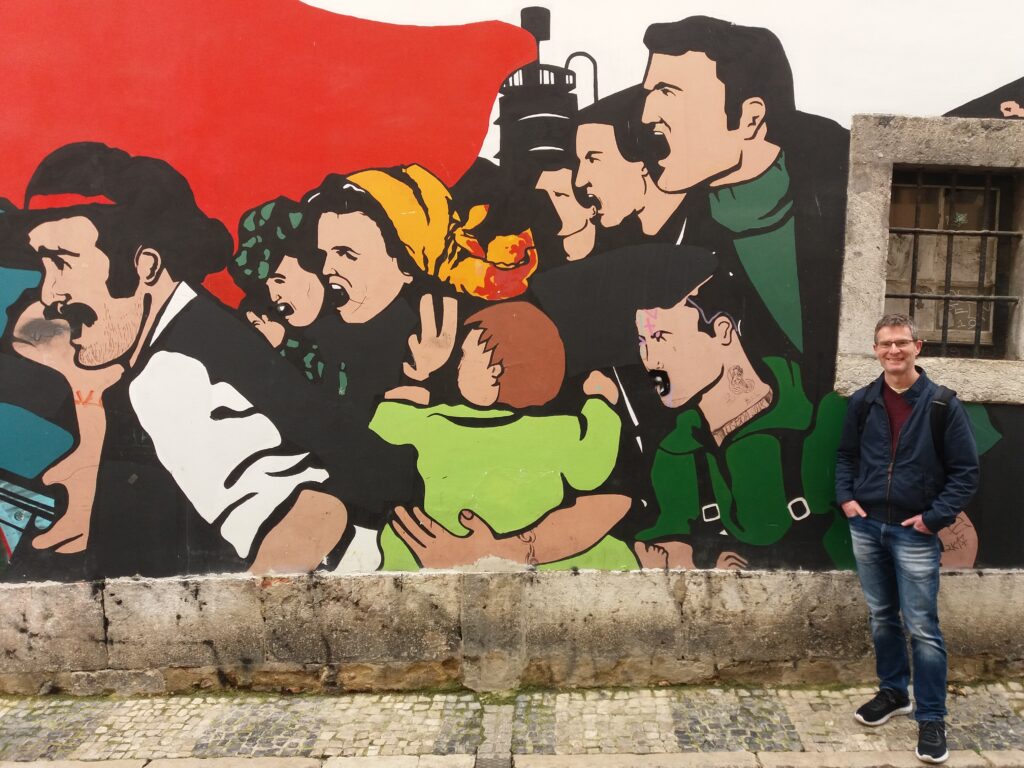 Authentic Dining in Lisbon
On tour with Awkrick, we saw the memorial to the former Jewish synagogue that was destroyed in a pogrom. They Jews suffered this way all across Europe for centuries.
It was time for lunch and Awkrick brought me to an authentic tasca portuguesa (a small portuguese restaurant) in Travessa do Forno called Girasol, where all the streets are basically cheap tascas.
Awkrick bought two glasses of cherry liqueur called ginjinha from a nearby place that has been in business for one hundred and fifty years. Ginja is a famous cherry liquor available all over Lisbon for one Euro.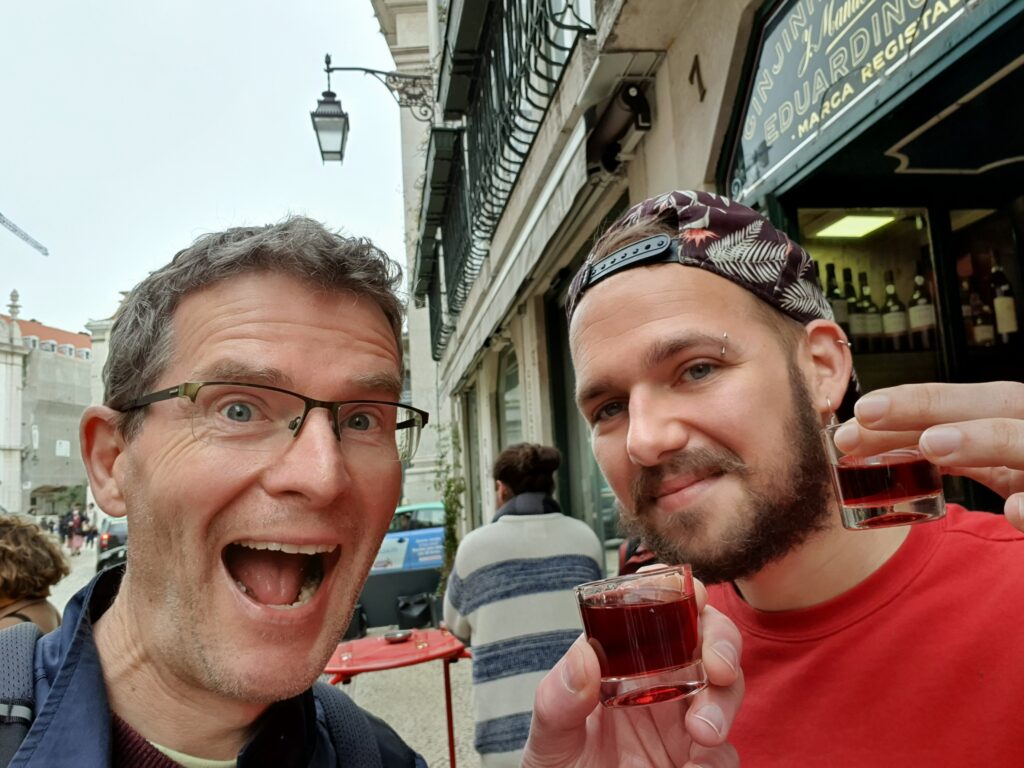 The Fado Music of Lisbon
We discovered the Mouraria neighbourhood and learned about the traditional Lisbon music called Fado. It was here that Fado had its roots in the mid nineteenth century.
"At first, Fado was created by prostitutes trying to seduce sailors so was not accepted by general society," Awkrick told me. "The music is usually sad, melancholic and nostalgic as their destiny was not as bright as other people of the society."
We saw some fadistas, wooden portraits in all of Mouraria, also some wooden portraits of the eldrerly people. All done by Camila Watson, an English expat who did want to give a tribute to Mauritian culture.
Good to speak about the Festas Populares, it might happen back this year, after 2 years being cancelled from the Covid-19 pandemic, the city will be partying and celebrating the culture for all the month of June, more precisely the day of Santo Antonio, borned in Lisbon but died in Padua in Italy from the 12th to the 13th June, Lisbon get crazy on that day!
After, we went right up to Graça, the top neighbourhood of Lisbon, where we have incredible views (Miradouro da Igreja da Graça and Miradouro Senhora do Monte), lovely big murals of street art and cheap tascas also.
Leaving the Graça neighbourhood, we passed by the famous Alfama neighbourhood, the oldest part of the historical city. Lots of tiny streets and cul de sacs but a bit too touristy to get a real appreciation of Lisbon.
We finished the night at a small fado bar called The Duque da Rua where a lot of singers take turns with various sad renditions of Fado music accompanied by the Fado-Portuguese guitar.
@thebelgiumguide (Awkrick's Insta account)